Max Kauffman
b 1981
I have lived in Denver for the better part of 15 years minus a few in Oakland. While most of my career has been playing out in the West, I'm a Midwest guy at heart, having spent my childhood years in Chicago and my more formative years in South Bend, IN.
As a kid, moving from the city to the rural Midwest, I was immediately drawn to nature, the deep woods, the wetlands. As I got older, my interests grew to include skateboarding and live music.
My early style of painting was heavily influenced by music and its undefinability. Music conveys a mood, but you cannot hold it in your hand. You can't point to it. I explored this fluidity with my art. To this day, improvisation and the idea of worlds within worlds dictates a number of my pieces. Architecture factors heavily into what I do. As a way to tell a story but also as the basis of things.
Recently I am looking to nostalgia as a failing, a way to advance mythology. The internal maps of commonplace roadside objects and buildings are laid out with a leaning on emotional imprints and shorthand patterns. There is a ghost-like quality in all the pieces, a result of my effort to capture the passing essence of these relics.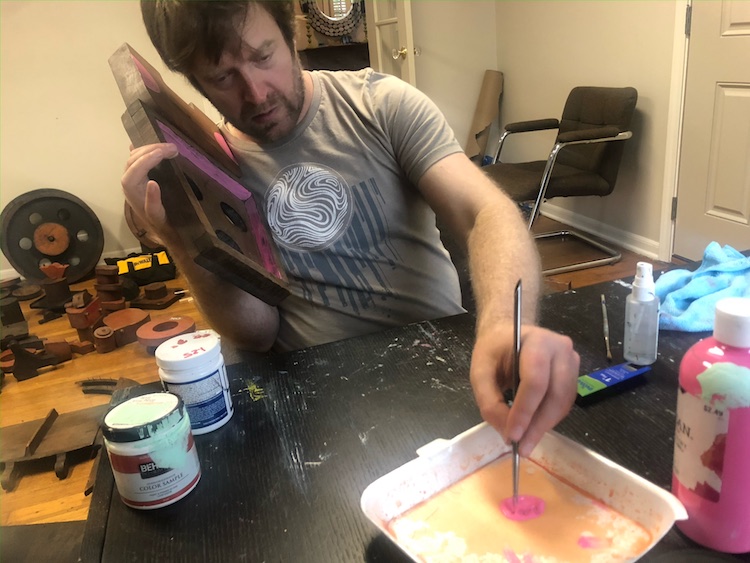 (click to download)
Press
Client List
303 skateboards, 72 and Sunny, Arbor Collective, Atlas Edibles, Denver Kush Club, Fat Tire, Motive, Mountain Dew, Nike, Ninedot Arts, PG&E, Portland Mercury, Redstar Merchandise, Sony, and The Very Warm